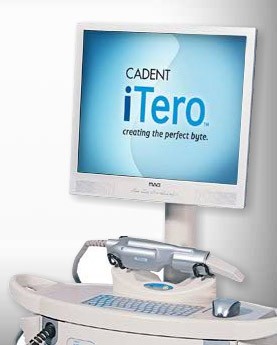 The latest iTero Scanner
The system is one of the most exciting achievements in dentistry. The iTero Scanner maps your mouth to help our dentist create an accurate digital map of your mouth. The procedure is comfortable, safe, and accurate. Dr. Judy is proud to offer iTero as an advanced alternative to traditional impressions which can be unpleasant and messy.
What is the iTero Scanner?
The iTero Scanner creates a digital map that is then used to create 3-d images that the lab uses to create crowns, bridges, and Invisalign aligners. This technology helps us to give you the most accurate dental work available today.
In the past, impressions of a patient's mouth were often inaccurate, time-consuming, and uncomfortable.  Large metal trays with liquid plaster were used to create a mold. Patients who experienced this were often left gagging and with goop in their teeth. The iTero scanner eliminates the need for any goop or trays and leaves your mouth as clean as when the procedure began.
As we begin the process of scanning your mouth, our doctor will show you the images as they are taken on the monitor. After we have finished taking images of your entire mouth, we then create a 3-dimensional image using the digital system.
Who makes the iOC Dental Scanner?
Cadent iTero powers the system – a Pioneer in Digital Dentistry with 13 years in the orthodontic field, 5 years in restorative dentistry.
How long does teeth scanning take?
The iTero iOC captures dental impressions in 6-8 minutes. As soon as your scan is complete you can view the smile on our monitor and see the simulated outcome if you are getting Invisalign.